meet our awesome team
if you've visited us at Mother Juice you know the heart and soul behind what we do is our MOJU family. Meet SOME of our favorite people here, to meet the rest - stop on by!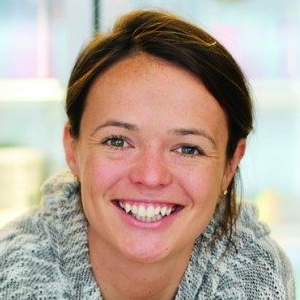 Ellen Fitzgerald
Ellen loves everything (well almost everything) about running a small business but her fave part is the energy she gets from working with people who are passionate about plant powered foods, happy minds, and a healthy planet. She started her first business when she was 8 years old -- selling spray painted pine cones (lol, yaaa) to her neighbors in Milton, MA. She now lives in Hingham, MA with her husband and two little boys. They love all things outdoors and bringing the boys to the city to visit MoJu.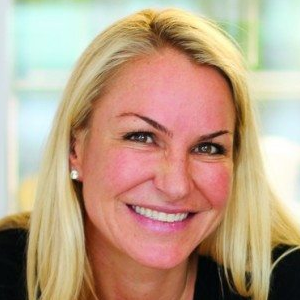 Laura Baldini
Laura grew up in Concord, MA with her three siblings and many pets along the way. She earned her Bachelor of Fine Arts in photography at Arizona State and went on to earn both a Real Estate studies degree from Boston University and her MBA from Suffolk University. Laura has always been health conscious but 7 years ago had a bad bout of asthma and turned to juicing to fix it. As fate would have it, she found Ellen on Facebook and learned about her Kickstarter for Boston's first cold pressed juice truck and the best internet friendship and partnership began. From there, the rest is Mother Juice history. Laura resides in Boston and loves all things MOJU, mermaids and plants.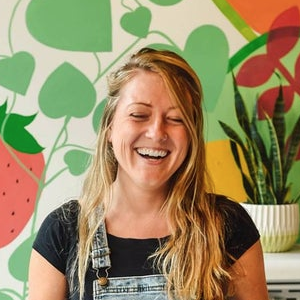 Rachel Pugliares
Rachel is our Operations Manager! She handles all things MOJU- from cleanses, catering, events, daily operations, staff communication you name it! Rachel grew up on the North Shore of Massachusetts and lived in Vermont for 6 years where she adopted her love of health food and wellness. Rachel moved back to her roots and now lives in Newbury, MA with her husband and puppy Leo 🙂 she is also a certified yoga teacher and pursuing an education in Integrative Nutrition.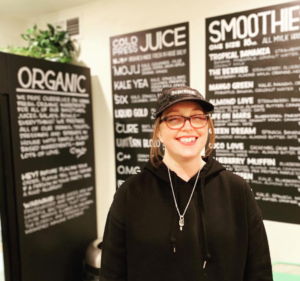 Marlena Massaro
Marlena manages our Newbury Street location and is the woman behind all of the delicious raw treats and vegan baked goods you'll find there. She joined MoJu in 2016 and has helped us expand and open all of our locations. When she isn't at Mother Juice, you'll find her at home baking and checking out the city's newest restaurant additions. She loves street art, funky hats, matcha and patterned stretch pants.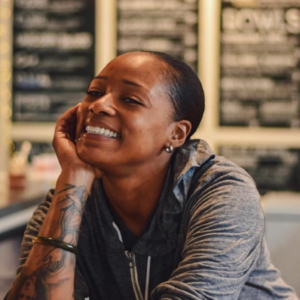 Tre Thacker
Tre and Mother Juice found each other in 2017 after a long run in the field of education and some light-work in retail. Tre started her 'Mother Juice' journey at the Kendall square location. Making her way to the Boston Public Market in early 2018, and assisting with facilitating the move to a larger space. With an incredible work ethic and a personality to match, it came as no surprise that she transcended to become Manager of BPM!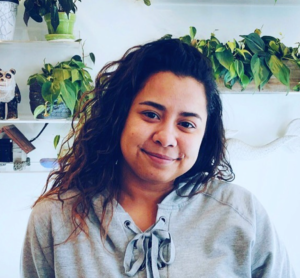 Jessica Montanez
working at Mother Juice for the past 2 years has been one of her greatest job experiences! She quickly felt like family and everyone she works with can easily put a smile on her face! She describes the job environment as fun and she LOVES being surrounded by fresh veggies and fruits all the time. She enjoys decorating the patio on Newbury Street and watering all of the plant babies she has claimed as her own. Outside of work she enjoys going on walks, practicing yoga, and enjoying a cup of wine every once in a while (or every night lol)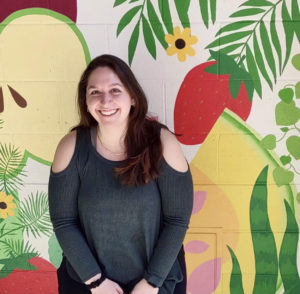 Airieanna Lane
Airieanna is the Assistant Manager at the Boston Public Market! Her love for preparing good food that feels good to people began in 2017, and then she found her way to Mother Juice in 2019. When she isn't at Mother Juice, you'll find her cooped up on a computer freelancing as a Graphic Designer, baking goodies for loved ones, or trying out the hottest food spots in the city.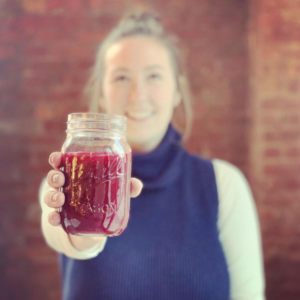 Julia Burns
Julia got her start at Mother Juice in 2018 when she began working part-time while still working in the advertising industry. With a passion for sustainability and plant-based eating, it was a no-brainer when 2 years later she joined our team fulltime to manage the Kendall Square location. She loves chatting with customers, answering questions about superfoods and memorizing your usual order. Make sure to say hi if you see her at Kendall!

36781
Kale Yeah

90110
Overnight Oats

31965
Taco Bowl

67842
Acai Bowl
Nice things they say
Everything is good here!!! MoJu has the best selection of juice and healthy eats of any place you will find in this area. The staff are friendly and keep the place very clean. It has the perfect vibe!
Nice things they say
Amazing food! Tried several other bowl places , this is the best. The food is very fresh , quickly prepared and wonderful service as well. Would definitely recommend .
Nice things they say
The new meal boxes are a dream. It was so nice open the fridge to find so many zero effort choices for snacks and meals. I kept forgetting I had it, so when I went to browse the fridge, it was amazing to see more than string cheese as an option. haha! I've been a MoJu juice customer for years, but these boxes may become a new habit. 🙂